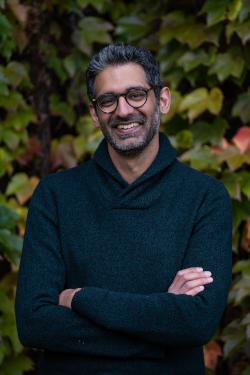 Nishant Batsha is a writer of fiction and histories.

He is the author of the novel Mother Ocean Father Nation (Ecco/HarperCollins), a finalist for a 2023 Lambda Literary Award, and named one of the best books of 2022 by NPR. He is currently at work on A Bomb Placed Close to the Heart (Ecco/HarperCollins, February 2025), a novel set between California and New York at the dawn of World War I.

He holds a PhD in history from Columbia University, as well as a master's from the University of Oxford (on a Doctorow Fellowship and ESU-SF Scholarship) and an undergraduate degree from Columbia. His academic research focused on Indian indentured labor in Trinidad and Fiji.

Nishant's writing has been supported by the Headlands Center for the Arts and the Prelinger Library, as well as fellowships such as the Paul & Daisy Soros Fellowship for New Americans. He lives in Buffalo, NY with his wife and two children.